ADSL2+ Wireless G 4-Port Modem Router
- NB6Plus4W Rev2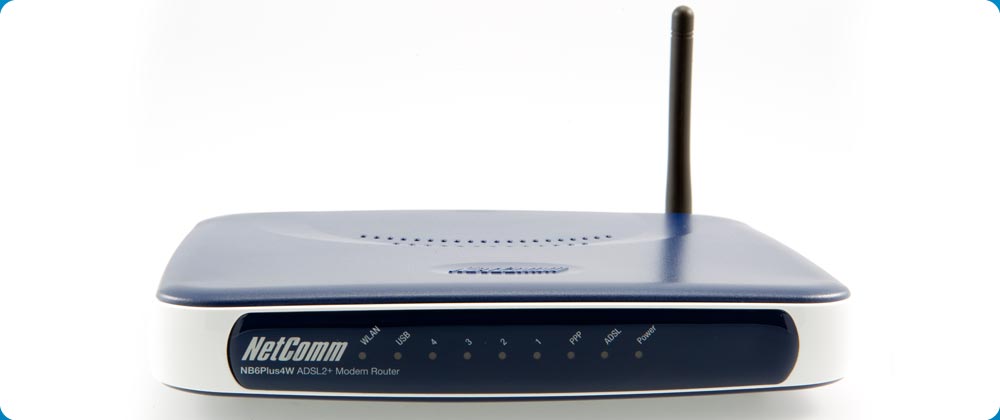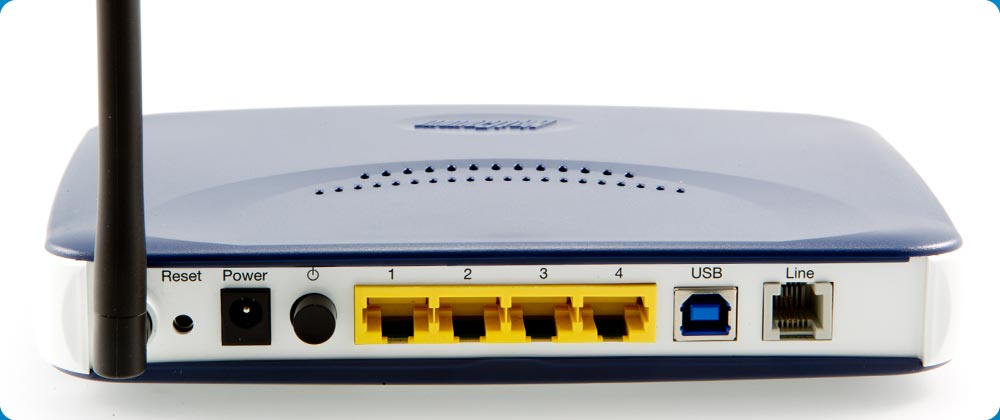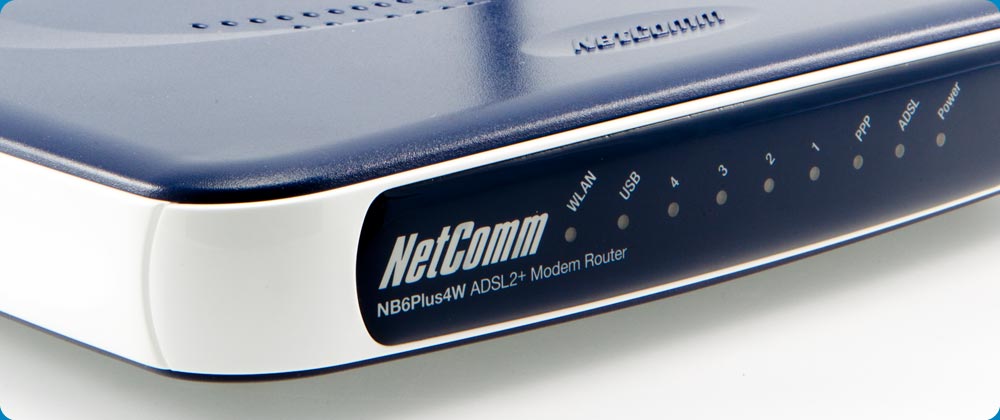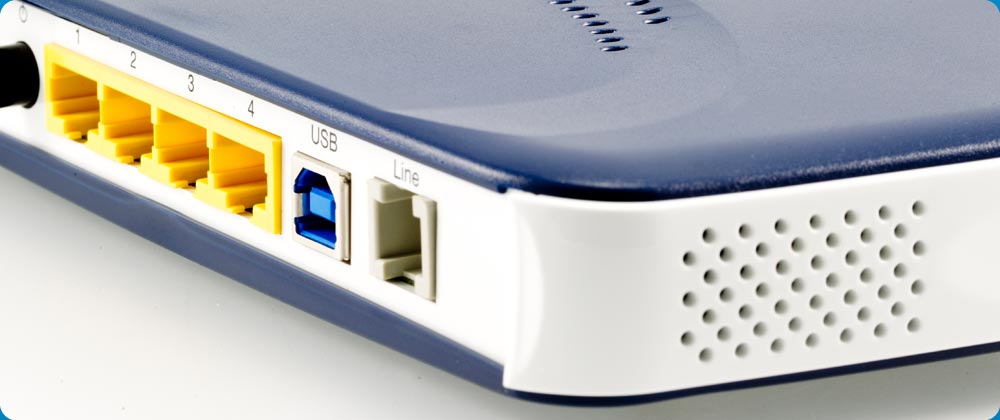 Overview
Specifications
Downloads
Support
Warranty
Find a Retailer
ADSL2+ Wireless G Modem Router
Watch movies, download music, play online games and give your Internet a boost with the NB6Plus4W. Create a high-speed local network for multiple wired and wireless devices and easily share files between multiple computers. Benefit from the inclusion of a USB port for computers running programs without a network port as well as simple setup and a raft of security options.
Dependable ADSL2+.
The NB6Plus4W is an ADSL2/2+ compatible router designed to provide super-fast and reliable ADSL2+ broadband Internet access while also allowing for ADSL and ADSL2 network connectivity.
WiFi freedom.
With wireless connection speeds reaching 54Mbps you can share a wireless connection between multiple devices such as laptops, PCs, tablet computers, smart phones and gaming consoles without compromising performance.

4x Ethernet.
Create multiple high-speed wired connections using one, or all, of the 4 Ethernet ports to support high-bandwidth activities such as movie and music streaming.
Technical Specifications
ADSL COMPLIANCE
ADSL

ANSI T1.413 Issue 2

ITU G.992.1 Annex A (G.dmt)

ITU G.992.2 Annex A (G.lite)

ITU G.994.1 (G.hs)
Support dying gasp

Maximum Rate: 8 Mbps downstream and 1 Mbps upstream
ADSL2

ITU G.992.3

ITU G.992.4

Maximum Rate: 12 Mbps downstream and 1 Mbps upstream
ADSL2+

ITU G.992.5

ITU G.992.5 Annex M

Maximum Rate: 24 Mbps downstream and 1.2 Mbps upstream
ATM
PPPoA (RFC 2364) and PPPoA Bridged mode

PPPoE (RFC 2516) and PPPoE Bridged mode

IPoA (RFC 2225)

Bridged mode over AAL5 (RFC2684/1483)

ATM Forum UNI 3.1 / 4.0 compliant PVCs

UBR and CBR with traffic shaping

OAM F4/F5 loopback cells
BRIDGING
IEEE 802.1d self-learning bridge

Learning up to 4096 MAC addresses

Transparent Bridging between 10/100 Ethernet and USB
ROUTING
NAT / PAT allows multiple users to share Internet access

UPnP IGD with NAT traversal capability

Port Forwarding: users can setup multiple virtual servers (e.g., Web, FTP, Mail servers) on the local network.

DNS Relay, Dynamic DNS

DHCP Client/Relay/Server

IGMP Proxy

Support IP/Bridge QoS for different traffic classes

Support reservation of bandwidth to guarantee voice quality of VoIP applications
SUPPORTED APPLICATIONS
Application Level Gateways preset for Auth/Ident, DNS, FTP, PPTP, IPSEC, POP3, SMTP, SSH, TELNET, TFTP & WEB servers. Multiple Virtual Servers can be setup in local network

Multiple VPN passthrough sessions

NetMeeting, MSN Messenger, FTP, Quick Time, mIRC, Real Player, CuSeeMe, online gaming
TR.069 Support

PVC Port Mapping

SECURITY
PAP, CHAP, and MS-CHAP for PPP authentication

Firewall based on incoming & outgoing filtering of IP address/Port number/Protocol type

Ping blocking from WAN

DMZ hosting

CONFIGURATION AND MANAGEMENT
Embedded web configuration interface with password protection

Remote management control

Telnet session for local or remote management

System events logging

DSL connection diagnostics

Firmware upgrade via web browser

User setting backup & restore
HARDWARE INTERFACE
One RJ-11 port for ADSL connection
IEEE 802.11g and 802.11b Wireless LAN interface

Four Ethernet ports for IEEE 802.3/802.3u 10/100 Base-T auto-sensing, auto cross-over

One USB port compliant to USB v1.1

One hidden reset button for restoring factory default settings
CHIPSET
Main Chip: Broadcom BCM6333
Wireless Chip: Broadcom BCM4312
WIRELESS LAN
Supports IEEE 802.11g and 802.11b
Data Rates: 54, 48, 36, 24, 18, 12, 9, 6 Mbps for 802.11g and 11, 5.5, 2, 1 Mbps for 802.11b

Diversity antenna system: one external antenna and one internal antenna

Maximum RF output power: 15dBm for 802.11g

Coverage Area:
802.11g: LOS (Outdoors): Max. 50 meters; Indoors: Max. 20 meters
802.11b: LOS (Outdoors): Max. 180 meters; Indoors: Max. 60 meters

Support WEP (Wired Equivalent Privacy) RC4 with 64-bit or 128-bit key length

Support Access Control List, only registered WLAN clients are allowed

Support 802.1x, WPA-PSK, WPA, WPA2 & Mixed WAP/WPA2. Support SSID stealthing

Support repeater function to extend coverage (WDS)

Support client isolation for wireless hotspot

Support multiple SSID

POWER SUPPLY
External power adapter 12VDC/1.0A (output)

ENVIRONMENTAL CONDITIONS
Operating temperature 0 ~ 40°Celsius

Relative humidity 20 ~ 90% (non-condensing)
DIMENSIONS
190 mm (W) x 30 mm (H) x 150 mm (D)

Weight: 315g
Specifications are subject to change without notice
Downloads
Documentation


Spec Sheet
PDF


User Guide
PDF
Images
Firmware
Available in selected regions.